Amrish Puri Biography
source(google.com.pk)
Amrish Puri was an Indian actor who appeared primarily in Bollywood movies. He has acted as a main or supporting role in over 400 movies. He played character roles and was well-known as a villain. He had a striking bass voice and an outsize acting style that made him a convincing villain in even the most melodramatic of movies.
He died in Mumbai, of a brain hemorrhage.
Amrish Puri was born in Naushar (Jalandhar) in the Punjab region of India. His parents were (father) Lala Nihal Chand and (mother) Ved Kaur. He had four siblings, elder brothers Chaman Puri and Madan Puri (both of whom also became actors), elder sister Chandrakanta, and a younger brother, Harish Puri. He graduated from BM College in Simla, Himachal Pradesh. Amrish came to Mumbai with not even hundred rupees in his pocket and made it so big with his sheer hard work, perseverance, and disciplined lifestyle.
He married Urmila Divekar on the 5th of January, 1959, at the Shri Krishna Temple in Wadala. The couple had two children, son Rajeev Puri and daughter, Namrata Puri. His son Rajeev is a business man .He has two grand children Sachi and Harsh Vardhan. Sachi is a 19 year old aspiring doctor whereas Harsh is a student in Jamnabai Narsee School(Juhu,Mumbai)and a very enthusiastic young man. Amrish was very close to him. His daughter in law, Meena, is a professional physiotherapist. She practices at her Juhu clinic. Amrish was a very religious person by heart and a Shiv devotee.
Amrish Puri worked in Bollywood, Hollywood, Punjabi, Telugu and Tamil films. Though he was successful in all of these industries, he is best known for his work in Bollywood cinema. He has appeared in over four hundred movies. His dominating screen presence & booming voice made him stand out amongst a sea of actors.
When Amrish reached Mumbai his brother Madan Puri was already an established actor, known for playing villain roles. Amrish failed his first screen test and had to find a job with the Ministry of Labour. He started performing at the Pritvi Theatre, in plays written by Satyadev Dubey. He eventually became well-known as stage actor.
Theatre work led to work in television ads and eventually to film. In 1971 he appeared in his first film, Reshma aur Shera; he played a villain. This was followed by many villain roles in films such as Nishant, Manthan, and Bhumika. He attracted a great deal of attention for his work in Mr. India, a Bollywood movie directed by Shekhar Kapur. He played the evil Mogambo, who encouraged his underlings with the phrase, Mogambo khush hua (Mogambo is pleased). The phrase became a popular catchword.
He became a staple of Bollywood films. He went on to play many supporting roles, including his famous role as Baldev Singh in the Indian blockbuster Dilwale Dulhaniya Le Jayenge (1995).
While he is best known for his work as a villain, he has also played the "good guy" at times. He was a kind-hearted American businessman in Pardes (1997) and a genial grandfather in the film Chori Chori Chupke Chupke (2000).
His last film was Kisna: The Warrior Poet. The film was released a few days after his death.
Amrish Puri
Amrish Puri
Amrish Puri
Amrish Puri
Amrish Puri
Amrish Puri
Amrish Puri
Amrish Puri
Amrish Puri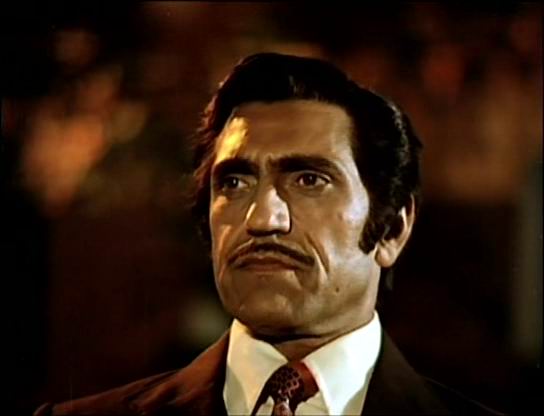 Amrish Puri